Security Screens Perth
For all your security screen, mesh, window and door requirements
Keep your home safe from burglars and pest-free with security screens that have stood the test of time. For high-quality security screens in Perth, contact Summit Security.
We offer a range of specialist products and services to keep unwanted visitors out of your house, this includes a variety of hinged and sliding doors and custom-made security screens. We offer a free measure and quote service, and can advise you on the best way to let in the fresh air while keeping out insects and intruders. Make your home a safe haven with Summit.
Our security screen range
Rely on the strength and durability of Summit's Amplimesh® security screens for your home. Whether you want the door or window screening options that the SupaScreen® series provides, or prefer to choose from the range of colours and other options available, you're sure to find a security screen ideal for your home.
Our range of Amplimesh® security screens, includes SupaScreen® and SecuraMesh®.
Enjoy unobstructed views while letting the breeze into your home with SupaScreen® security door and window screens from Summit.
This modern innovation in security technology is made from high tensile stainless steel, woven into a fine mesh, maximising strength and durability while providing a welcoming entrance to your home.
SupaScreen® is assembled using a unique patented pressure process that eliminates the need for screws, rivets, pins or snap–ins. The process ensures that no dissimilar metal surfaces come into contact with the mesh, eliminating this as a possible cause of corrosion.
Covered by a 10-year warranty, these security screens will provide you with the peace of mind that comes from knowing your family and property are safe and secure.
Looking to protect your home while complementing its look and feel? Consider IntrudaGuard®, quality security screens that are affordable and can withstand Australia's hash weather conditions.  Why choose IntrudaGuard®:
Excellent security features
Meets Australian standards
Comprehensive seven-year warranty
Helpful guide for care and maintenance
Protect your home and family with quality SecuraMesh® grille security door and window screens from Summit Security.
These screens are suitable for sliding doors, hinged doors and windows, providing a visual deterrent and effective protection against uninvited guests. A popular choice due to the strength of material, these can also be customised with a variety of styles and powder-coat colours to suit your home décor.
All our Amplimesh® security screens are rigorously tested to ensure they meet relevant Australian and industry standards. Tests include:

Security
Security testing – A rigorous regime of impact tests, jemmy attacks and pull testing to ensure that the inherent strength and structural integrity of the product is maintained.
Grille shear test – SecuraMesh® grilles are tested for material hardness to ensure the force required to sever the grille cords meets or exceeds Australian Standards requirements.
Knife shear test – SupaScreen® stainless steel meshes are tested for material hardness and tensile strength by subjecting the mesh to a standardised physical cutting attack, which draws a knife over the mesh a number of times.
Fire
Fire attenuation test – SupaScreen® products have been tested to ensure than when exposed to incident radiant heat it achieves a 41 per cent reduction in the radiant heat flux between the inside and outside of the product.
Bushfire test – SupaScreen® products have been tested under the Australian Standard and satisfied the requirements for bushfire attack Level (BAL) 40.
Cyclone
Cyclone missile impacts – In cyclone prone regions windows and doors may need to be protected from flying debris. SupaScreen® products have been tested to this standard, resisting a 4kg, 100mm x 50mm timber travelling at 15 metres per second (m/s). They have also been tested and satisfied the more onerous regime of the same piece of timber impacting the screen at the faster speed of 20m/s followed by 8mm steel balls at 30m/s followed by fatigue testing.
Benefits of having security screen doors
Your family is protected
Cannot be pried open by intruders or burglars
Allows for a cross breeze through your house
Blocks 60% of harmful UV rays
Reduces air conditioning energy costs
Provides a clear and unobstructed view of the outdoors
Pet resistant
Keeps pests out of your home
Made strong, secure and durable for years of trouble-free use
All security window screens and doors can be customised to your home
Why choose us?
We have seen many window and door frame configurations over the years and can provide you with a modern solution to better secure your property. We have been in the security product industry since 1969, so we know all the tricks burglars use, and the best ways to secure your home.
We manufacture some of the best security products for your home, and are authorised suppliers of Amplimesh a well-known and established security brand, who sell high-quality products.
 Request a free quote today.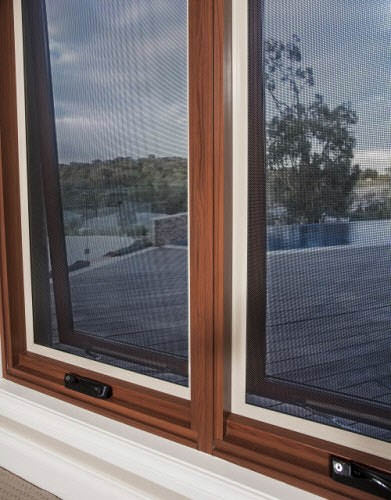 Hello Les
I would like to give you a bit of feedback in regards to how happy I have been with the product and the service given by everybody I have dealt with at Summit if I may.
I have had a few jobs done over the years and each time been impressed by how prompt the quote was done and how it was always done at the time stated with no need to wait about all day. All installations apart from one were done by Tim and I have yet to meet tradesperson who is as friendly, courteous, and respectful, tidy, meticulous, and as helpful as he is. Because of this I would never hesitate to recommend you guys to anyone I know who might be considering having a security installed.
Thank you very much
Cheers
Jim